Does everyone else disregard the Q-Tips warning?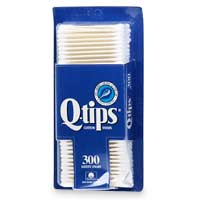 Category
None
Today my box of Q-Tips ran out, I go through about two of these a year. I don't know about everyone else, but Q-Tips are like a little bit of heaven on earth. There is a point when you're using them, that well, just feels so damn good, go past that point though and it's the most painful thing in the world, so it's now a daily ritual I like doing, brush teeth, clean ear canal.
So during my lifetime I have basically purchased Q-Tips for either cleaning a tape head (probably done this 10 times in my life), or cleaning out my head, which is basically everyday, which brings me to the warning that is on every Q-Tip box:
Do not insert swab into ear canal. Use only on the outer surfaces of the ear. Keep out of reach of children.
So I ask you, what are these people thinking? Surely they know what we use them for, or am I the only one?
Hmm, could this blog have been considered over sharing?