Lotusphere 2008 Slides
Category
None
These are the slides I used for the VMware session and the speedgeeking 5 minute presentation.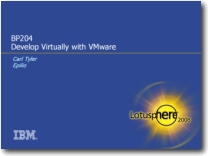 BP204 - Develop Virtually with VMware
Come and learn how using VMWare and other virtual technologues can greatly enhance your development and support process. Want to try IBM Lotus Domino on Linux? No problem. In this session you'll learn about VMWare Player, Server, Workstation and ESX, and you'll hear about real life experiences of using VMWare to speed up development and testing.
SpeedGeeking
Learn in 5 minutes how to customize your Sametime Meeting Center. See how to change colors and logos, and learn about the hardly know Meeting Center Toolkit.